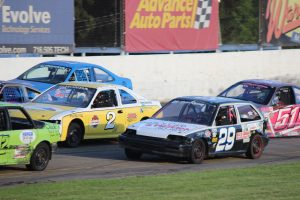 **BREAKING NEWS** Road Rage-A-Rama (formerly called Crash-O-Rama) is officially ON for 2019! The event will be on Saturday, June 15th at NEW YORK INTERNATIONAL RACEWAY PARK (formerly known as Lancaster Speedway)
EVENTS include Enduro Race, Demolition Derby, School Bus Race, Flag Pole Race, Skid Plate Race and Boat Trailer Race. There will be over $14,000 in prize money.
IMPORTANT: More information will be posted here as it becomes available. Entry blank and rules are expected to be available by mid-next week. Again, we will post on here the minute they are, so please don't waste time with phone calls to the office beforehand. No further information will be available until entry/rules are completed… We're very excited to be bringing this fun event to a new venue in 2019– stay tuned for more!!!