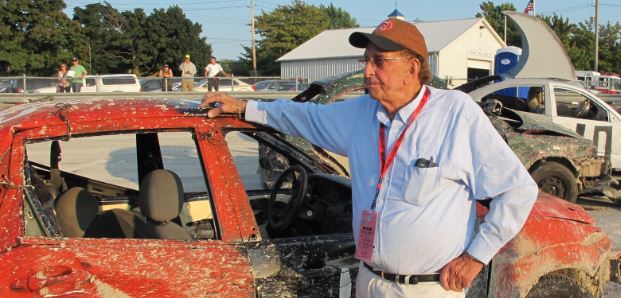 It's with the most heaviest of hearts we inform our derby fans on the passing of an undisputed pioneer in the motorsports industry and founding father of JM Productions Inc.  Walter "Jay" Milligan Sr. passed away on Monday at the age of 86.
He first produced a Demolition Derby at the Erie County Fair in Hamburg, New York nearly 54 years ago at the age of just 31.  His groundbreaking intelligence along with plenty of blood, sweat and tears were the groundwork of his thriving company that ultimately became the driving force behind more than 70 shows annually at State and County Fairs all over the eastern United States.
He first attained personal fame in 1974 when he created the All-American Thrill Show.  It was there he had a large role in constructing a mid-air, 360 degree roll called the "Astro-Spiral".  The stunt became renowned when used in the James Bond classic film "The Man with the Golden Gun"
There's no adjectives to appropriately depict the impact Walter "Jay" Milligan Sr. had on the motorsports and demolition derby business.  His lust for perfection and foresight were matched by no other, and the effect of his passing is being felt by family, friends and business associates all over.  Led by his son Jay Milligan Jr.,  whose worked with his father for more than 35 years and Jay Jr's staff, we'll continue here at JM Motorsport Productions to produce the highest quality shows while never forgetting to honor the legacy of an unequivocal legend.